Page 4 - Jensen Bros Annual Bull Sale
P. 4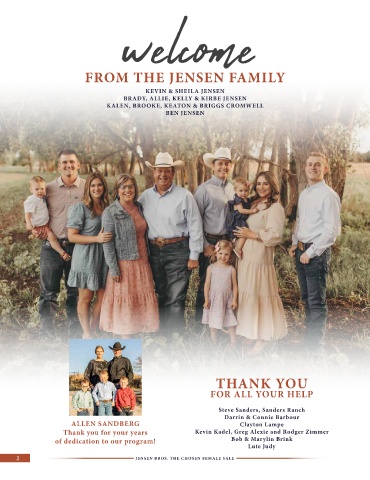 weLCOMe
                            We would like to thank all of our past, present and future clientele, your business is appreciated!
                            We started this herd 48 years ago with a 4-H heifer, and the main thing we have learned is patience. In order to bring you a set of bulls that we
                            can stand behind takes years. We have selected rigorously and used patience; we know our cow families inside and out, expanding gradually
                            with those cow families that have been proven and predictable. Through Embryo Transfer we have been able to make our calf crop even more
                            consistent by taking the best of each cow family and multiplying the great ones.
                            Our bulls once again came home from Denver with a purple championship banner. Exhibiting at the National Western Stock Show adds credibility
                            to our program, proves we are breeding cattle that are accepted and competitive with our Hereford peers.
                            We have also used herd bulls of our own, along with proven A.I sires. Charting our bulls with breed leading EPD's in most categories. We've tested
                            most of the bulls we are using in the National Sire Test at Olsen's, this just further proves these young sires with unbiased facts, not fiction!
                            We are adding 5, two-year old pairs with heifer calves to this years sale. These young cows will have all been bred A.I. on their first service and
                            have impeccable udder quality. They will be the kind that will make donors! They are selected right out of the top draft of our replacements!
                            We celebrated a marriage last July with Brady and Allie; they are now living in Brookings, South Dakota. Brady is on staff at South Dakota State
                            University and Allie is working with South Dakota Cattleman's Foundation.
                            Brooke graduated from Kansas State in December and will have started working for Cargill Protein in Wichita by the time this letter is printed.
                            Brooke is engaged to Kalen Cromwell and their marriage is set for August 25th, 2018.
                            Our youngest, Ben will graduate high school in May and will start college in August. Sheila and I both look forward to the years in front of us with
                            our children's families.
                            We look forward to seeing all of you on sale day, please feel free to ask us anything you would like to know about the sale offering. Be there in time
                            to browse through the lots, and then join us for a great lunch and some unbelievable pie!
                            Sincerely Kevin & Sheila Jensen and Family
                            P.S. – Yearling weights and ultrasound data will be available closer to sale day on our website, www.jensenbros.net

                            Thank you all for coming and supporting our program.!
                                                            This is the average ePD of all sale bulls and their percentile ranking
                                                             BW   WW  YW   SC  SCF  MM  M&G  CW   REA  BMI$  BII$ CHB$
                                                              2.5  61  96  1.08  18  28  58  72  0.52  $ 27  $ 23  $ 31
                                                             35%  10%  15%  25% 20% 25%  10%  15%  15%  15%  15%  20%



                   KeviN & SHeiLA JeNSeN                     SALe LOCATiON:  GPS ADDReSS 275 HiGHwAy 148 COURTLAND, KS 66939
                                                                          From HWY 36 - Go 1 mile south to Courtland than
                      P.O. Box 197 Courtland, KS 66939                 6 miles south of Courtland and 1/8 mile west on Hwy 148.
                         Home Office 785-374-4372                                FROM CONCORDiA
                        email jensenks@courtland.net                     9 miles north of Concordia on Interstate 81 turn west
                                                                    12.5 on HWY 148 til Jensen sign and sale barn on south side of road.
                   Kevin 785-243-6397      Sheila 785-262-1116
                                                                                 FROM BeLLeviLLe
                  Brady 785-614-1645     Brooke 785-614-2037             8 miles south of Belleville on Interstate 81 turn right
                          webpage with catalog link               12.5 miles on HWY 148 til Jensen sign and sale barn on south side of road.
                                                                            KANSAS CiTy AiRPORT 3.5 HRS.
                   www.JeNSeNBROS.NeT                                      MANHATTAN, KS AiRPORT 1.5 HRS.,
                    Herdsman Eddie Sandberg 765-490-1719                         LiNCOLN, Ne 2 HRS.
                                                                                 wiCHiTA, KS 2 HRS.
                        We are committed to customer satisfaction and service.